I just stumbled upon a cute little blog called "
Dandelion Wishes
" that is having a Favorite things swap that sounds like so much fun! She's a fellow SITSta of mine and goes by the name of Mamarazzi (which I think is hillarious) go read up to see why.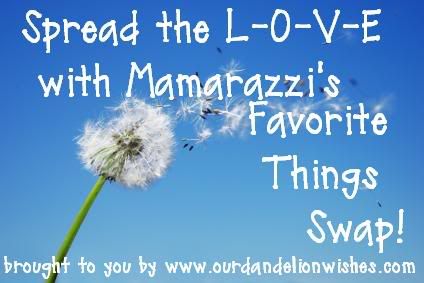 If you are interested in this swap, click on the picture above to get started...but hurry, the deadline is this Friday, November 7. I just signed up and can't wait to see what I get from my swap partner...better yet, I can't wait to collect my favorite things to give.
--------------------------------------------------------------------------------
I've been tagged by zuzu girl to share 7 things about me, so here are the rules of the internet meme as copied from
her blog
.
1.Link to your tagger and list these rules on your blog.
2. Share 7 facts about yourself on your blog, random and weird.
3. Tag 7 people at the end of your post, include links to their blogs.
4. Let them know they have been tagged by leaving a comment on their blogs.
So here I go...
1. I love mascara & can't to go anywhere without some on.
2. I played volleyball in college (yeah, it was a small college...but that still counts right?)
3. I've always wanted to have a lil' "Mama's boy" but at this point, the odds are against us, hehe.
4. I love going on "dates" with my husband without the girls...it's so much fun!
5. I heart Al Pacino...ooh la la!
6. I'm addicted to finding & reading new blogs now that I have one myself (go on...admit it, you are too).
7. I'm not the best cook, but i swear I'm trying. I'm getting ready to make some Mexican soup (thanks to JC for the recipe), and tomorrow I'm making some scallops in a yummy sauce, then later this week I'm trying an almond chicken entree' that is made with orange marmalade and dijon mustard. See I told you I was trying. Now if I can just get them all to turn out right...my family will be thrilled. Thank goodness that my husband is an AWESOME cook :-)
Now I'm passing this meme on to:
Jeanne
,
Snazz
,
Jaime
,
Paula
,
Tilt
,
Andrea
,
Tara